Be a part of the snail mail revival!
Give yourself, a friend, or a child something fun to discover in the mail! This subscription celebrates art, creativity, and adventure for ALL ages.
This extraordinary correspondence follows Ursa and her dog through storytelling that appeals to adults and children. Ursa writes to you each month with something, or someone, the pair has encountered. Every month is different and every tale is magical. Mythical creatures and mythological characters from all around the world are featured.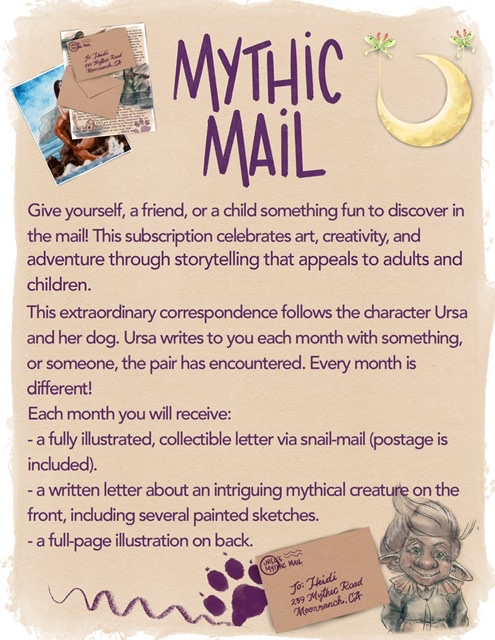 Each month you will receive:
– One fully illustrated, collectible letter via snail-mail (postage is included).
– A written letter to you about an intriguing mythical creature on the front, including several painted sketches.
– A full-page illustration on the back.
– An extra, little something (item/sketch/art) customized for you.
Letters will be mailed via USPS. First time subscribers will receive a digital "Welcome Letter" via email introducing Ursa and Ink so that the characters are familiar before the first subscription letter arrives in the mail.
Be sure when subscribing to include the name and address of the recipient(s) so the letter will arrive addressed to them!
I am happy to customize the extra item/sketch/art with your name or something you like. Just leave a note in the "message to seller" at the checkout.